tactical Emergency casualty care - Pre-hospital trauma life suppport
discreet patient transfer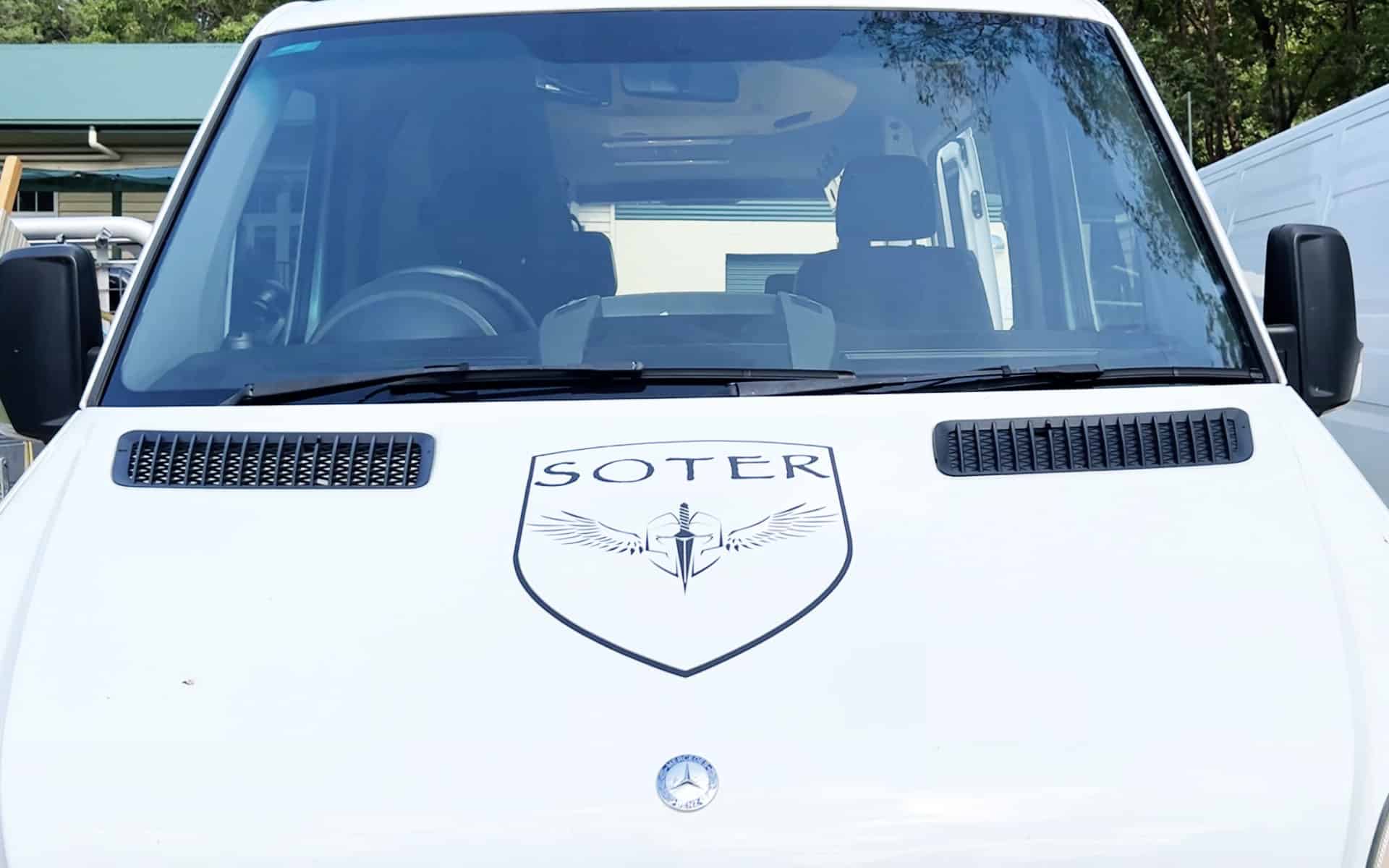 Mercedes-Benz Sprinter
(Dry Hire – Vehicle Only)
→  Vehicle Only Hire
→ Low Signature Patient Transfer 
 → 240V external plug in for primary battery clean start and ancillary battery charging.
→ Ferno Mondial stretcher (manual)
 → Plumbed Oxygen/ Nitrous Oxide with 1 x high flow O² meter next to patient (2xD Cylinders  capable*)
 → External worklights (2 x sides, 1 x rear)

 → Extendable powered side step through main sliding door (left hand side)

 → Internal lighting, (soft/bright)

 → Tinted windows all round and privacy curtain to drivers cabin.

 → Tyre changing equipment, jumper leads and vehicle cleaning items.

 → Licensed to carry 5 pax, (4 seated, 1 stretcher)

 * – Medical Gases not included
Vehicle is located in SE Qld.  Hirer is responsible for freight costs or pickup/drop-off.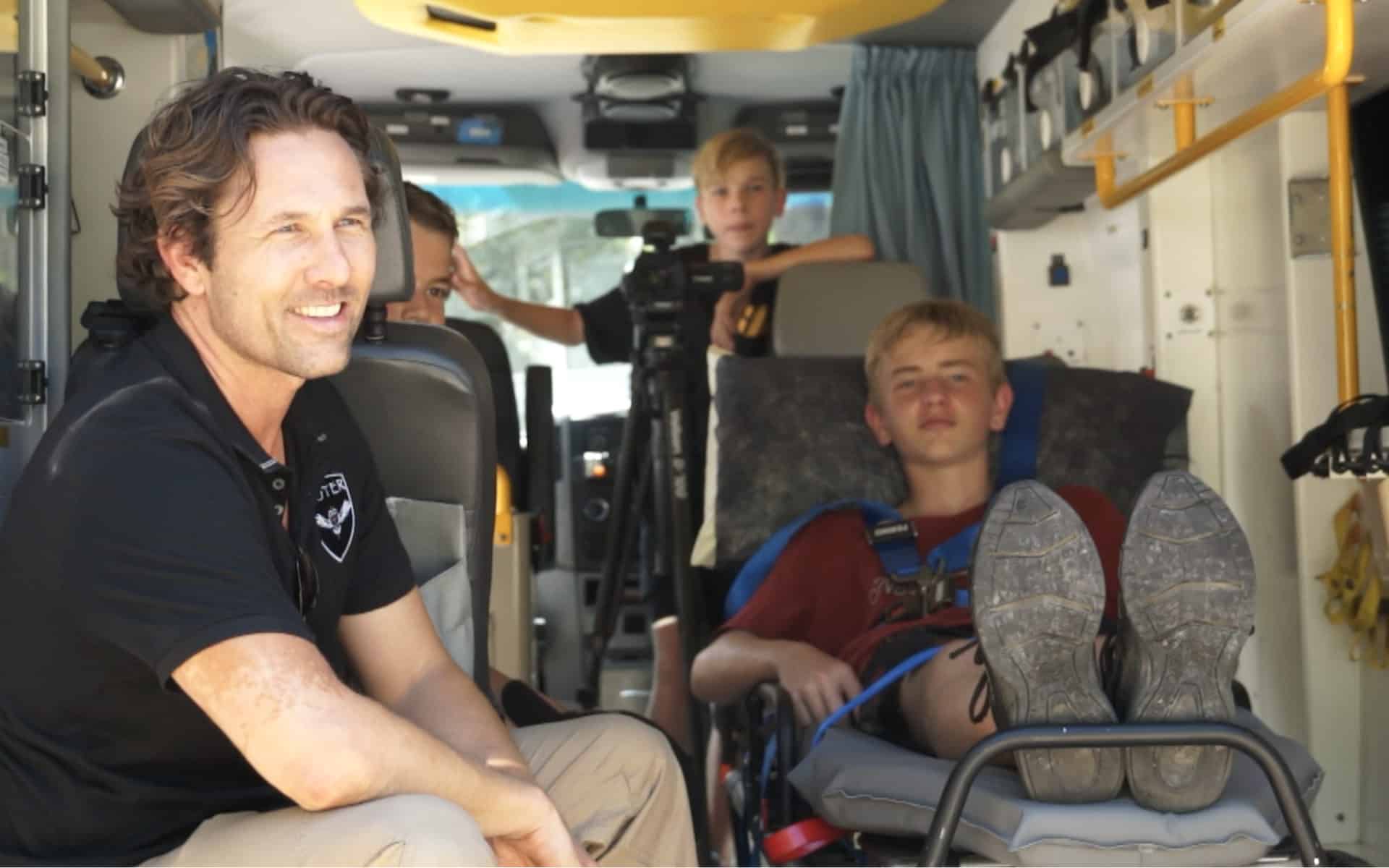 Mercedes-Benz Sprinter
(Dry Hire)
→ Vehicle  + Advanced Life Support Equipment including:
→ LifePak 12 Defibrillator (EtC02, Pulse Oximetry, NIBP)
→  2 x D Cylinders of O² /N² O² 
→ Laerdal Suction Unit- Portable
→ Conterra ALS Pack (kitted)
→ Conterra Oxy-Sock with C-Cylinder + regulator
→ Full ambulance consumables 
→ Tailorable advanced/intensive care equipment to your needs
Vehicle is located in SE Qld.  Hirer is responsible for freight costs or pickup/drop-off.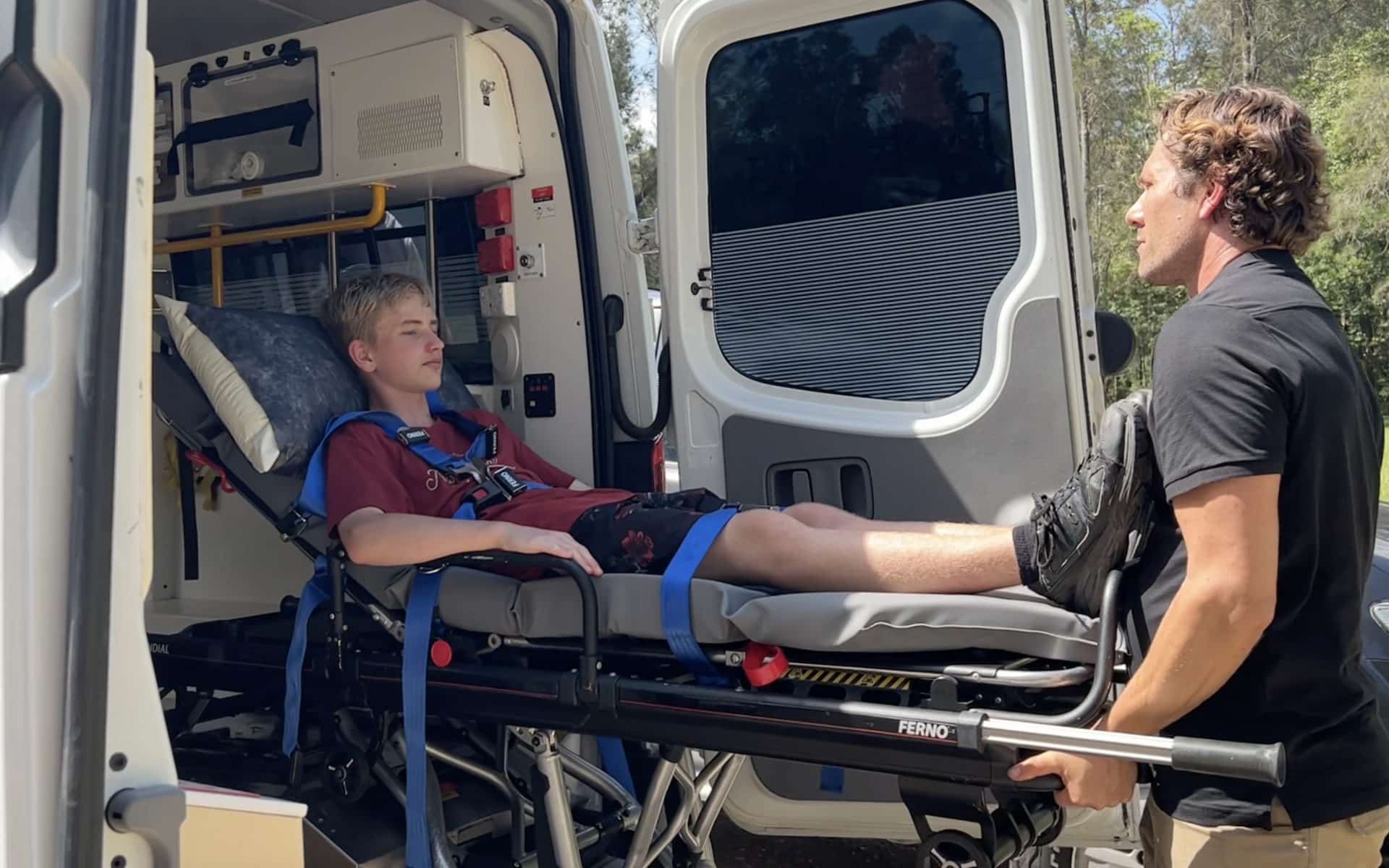 Mercedes-Benz Sprinter
    (Wet Hire)
→  Paramedic
→ Intensive Care/Critical Care Paramedics
→ Emergency Nurse (RN),
Based in SE Qld, Available Australia Wide for short or long term projects.
Vehicle is located in SE Qld.  
ONSITE TRAINING
SOTER offers, via our NAEMT training facility registration, the flexibililty of our site located project staff to run relevant, internationally accredited First Aid training. Our products include, for low risk operations: First On-the-scene (FOTS);  Psychological Trauma in EMS Patients (PTEP); and Basic Life Support/CPR. For high risk operations: Tactical Emergency Casualty Care-First Responder; Tactical Emergency Casualty Care Provider and Pre-Hospital Trauma Life Support. So be it your admin staff or your Emergency Response Team (ERT), we can keep you operational, without missing a beat.
TAILORED COURSES 
We are more than willing to tailor additional Australian qualifications to the training and scenarios specific to your department or corporate requirements. Be they industrial , active shooter/threat or natural disaster response and rescue, our team can devise a challenging and memorable experience your personnel will learn from.
HIGH QUALITY DELIVERY 
Our delivery can be F2F or blended with online packages reducing F2F burden so your personnel can access it anywhere you have connectivity. Benefit from any non-productive disruptions and save for your business.    
 REALISTIC SCENARIO BASED TRAINING
We can work with your team to design comprehensive scenario based training relevant to your business unit roles, tasks or upcoming operations.  We designed hyper-realistic wounds and injuries utilising industry leading props, training aids and moulage special effects. Cost plus packages can including actors for casualties, props and special effects for increased scenario realism on request. 
CURRENCY OF EXPERIENCE
SOTER is intimately connected to various fraternities and associations to offer the latest evidence based practices and learnings from around the world. Our clinicians all are required to maintain their currency both through the Australian Health Practitioner Regulation Agency and internally with our management and medical directors to our relentless standards.
* Minimum level of exisiting qualification is recommended to a Cert IV Ambulance/Emergency Health or equivalent level of vocational training.
INDUSTRY EXPERIENCE AND DELIVERABLES
SOTER was developed from various experiences of our founders of the variations required of medical clinicians working in U-HARM environments that differ slightly from metropolitan 'on-road' paramedics.  It is from this first-hand experience that we have devised our own required minimum standards and further promote various post-graduate and accredited vocational requirements to prepare our personnel to deliver when required upon, in your business.  
Our staff come from various first response backgrounds, including international and domestic Ambulance/Paramedics, heavy industries such as Mining and Oil and Gas, Remote Aeromedical Retrieval and Search and Rescue and the full spectrum of military medical responses. We are governed by a team of physician specialists to which we leverage from to deliver, we believe the highest possible medical care options for your organisation.
COMPETITIVE PRICING
So if you have made it this far, you probably think the cost of such a tailored, prepared and competent service is outside your reach?  Well you'd be pleased to learn that due to our boutique nature compared to other providers, we are able to keep our costs down unlike some of our 'global' competitors. How does this work out for your operations you ask…?  Well we deliver the people on the ground that can make the decisions over 95% of the time, with greater governance and individual authority. Want to know more on how we save you money…..hit the ENQUIRE HERE button below!!
WORKING WITH SOTER means:
Humility – Void of toxic ego, we know what we can do, will tell you so or report back otherwise
Integrity – We do what we say we are going to do, on time, and to quality ….when we say we are going to do it by.
Authenticity – Truthful, genuine interactions based on solid moral principles applied in good faith
Resilience – Strength of mind and body to be steafast in service provision and the stamina for self preservation.
Excellence  – Relentless pursuit of mastery through considered risk and transformational innovation. 
These are our H.IA.R.E (Higher) values.  Each of our personnel strive by these tenets and these will be displayed and shared within your organisation.
As a Not-for-Profit, SOTER puts our money where our mouth is, Yes we believe in capitalism….yes we need to survive, but we also believe that not enough is done well to the right of centre with many essential services less than ideally supplied.  SOTER is couragelesly challenging the norm to better the delivery of medicine in what is the dichotomy of metro-rural provisions in Australia. If this fits your business' charter……we are the service for you.   Can't bring us onto your books……..well we are a registered charity through the ACNC.  Hit the button below to donate as little or much as you like, we will tell you where it will go and even follow up with you Just contact us through the email or number below.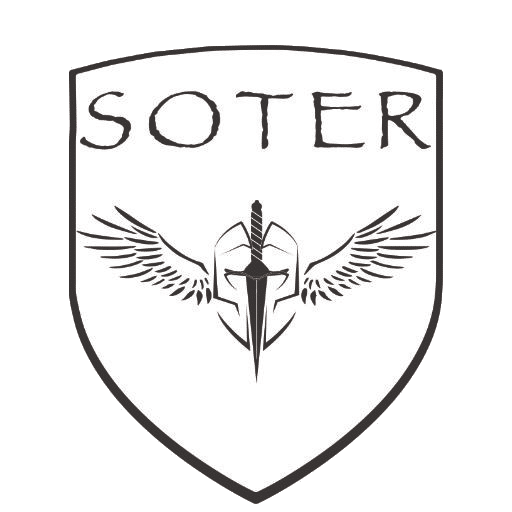 For corporate/department bookings please get in touch directly with one of our training specialists to assist in your enquiry.
Phone: 1300 2 SOTER (2 76837)
Secure email: [email protected]